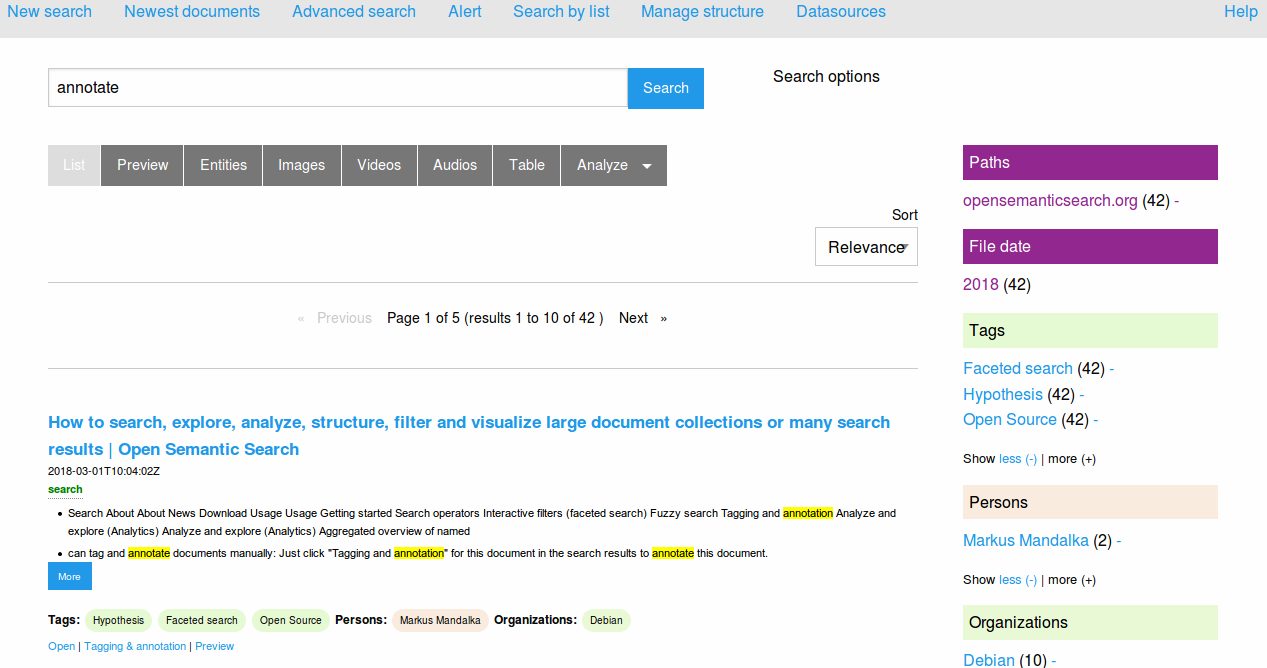 PHP based lightweight search client (open source) with complete and responsive user interface for searching with Apache Lucene / Solr (open source enterprise search server).
So you can install / run an search engine on standard LAMP or standard PHP webspace without effort (based on vanilla PHP and Solr-PHP-Client). It doesnt need a database but only connection to or an installation of a standard Solr server/service (ready packages available).
Just install the Debian or Ubuntu package or copy the source to PHP webspace and search with a flexible responsive UI:
Features
Fulltext search
Facetted search (interactive filters)
Viewer for preview
Analyze text
Sorting
Different list views:
Views
Result list (with snippets and highlighted search terms)
Preview
Images
Table (sortable and filterable)
Analyze search results or all documents with data visualizations:

Wordcloud
Trend chart
Networks, connections and relations (graph)
Configuration
Edit /etc/solr-php-client-ui/config.php for setting another language or for adding custom facets (additional fields and interactive filters).
Used libraries
Used libraries and frameworks (all included in the package)
solr-php-client (Solr client library for php)
jquery (javascript library for easier accessing the dom model)
foundation (CSS and UI lib for responsive web design)
d3js (javascript library for visualizations)
nvd3 (d3js based javascript library for charts)
Cytoscape.js (graph)
Tablesaw (responsive tables)
Dashboards
Solr-PHP-UI is a lightwight solution which doesnt need a database or special libraries. So the configuration options for the users are limited.
If you want to configure dashboards, add some calls of a view into iframes, show some Solr-PHP-UI RSS feeds (i.e. show results of some configurated search feeds in Drupal views) or you have to setup a user interface with a database like Hue (Django/Python) or Sarnia (Drupal/PHP):
Alternates
Alternate components (Open Source user interfaces for Solr):